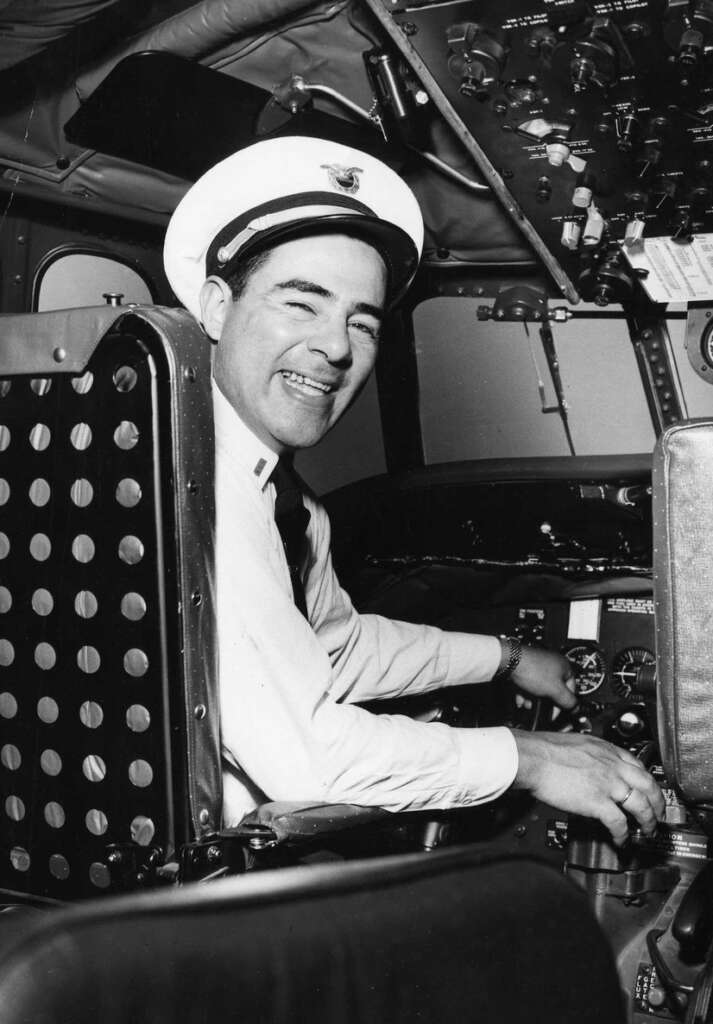 A Bit of History
Born in Villamaría- Caldas, the 11th of june 1917. He took his primary and secondary studies in Villamaaría and Manizalez. His career studies in aerodynamics and aviation were done in United States at Perdue University in Lafayette, Indiana.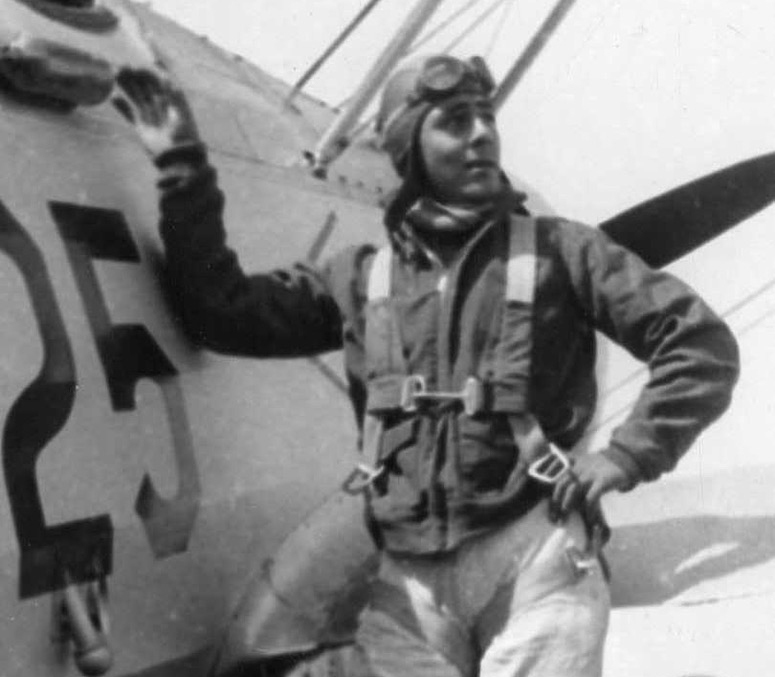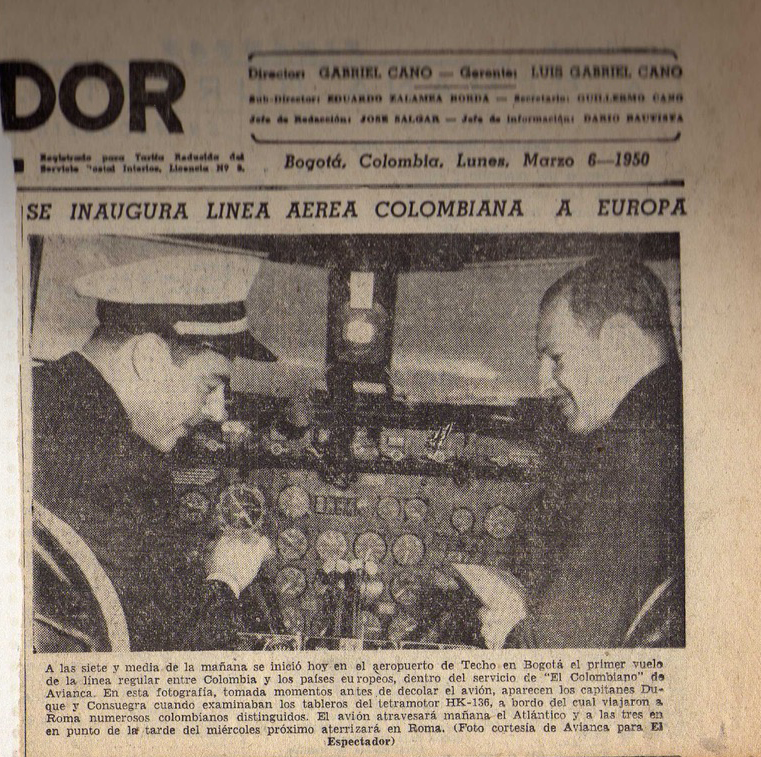 Career as an Aviator
Jaime Duque was a pilot during the heroic age of aviation, when day to day life was put at risk by crossing the mountains in small planes. In 1944 after finishing his studies, he came back to Colombia. He was the first Colombian pilot to be named General Chief of Pilots in Avianca, replacing the foreign aviators that had been in charge since 1919. In four years, he achieved to turn a staff that was composed mainly by foreigner pilots, to one where everyone was from Colombia.
He inaugurated night flights and in 1949, using only astronomical navigation, he became the first Colombian aviator to cross the oceans, establishing the air routes to the principal cities in Europe and North America; Madrid, Rome, Paris, among others. The opening flight Bogotá- Rome was 32 hours long.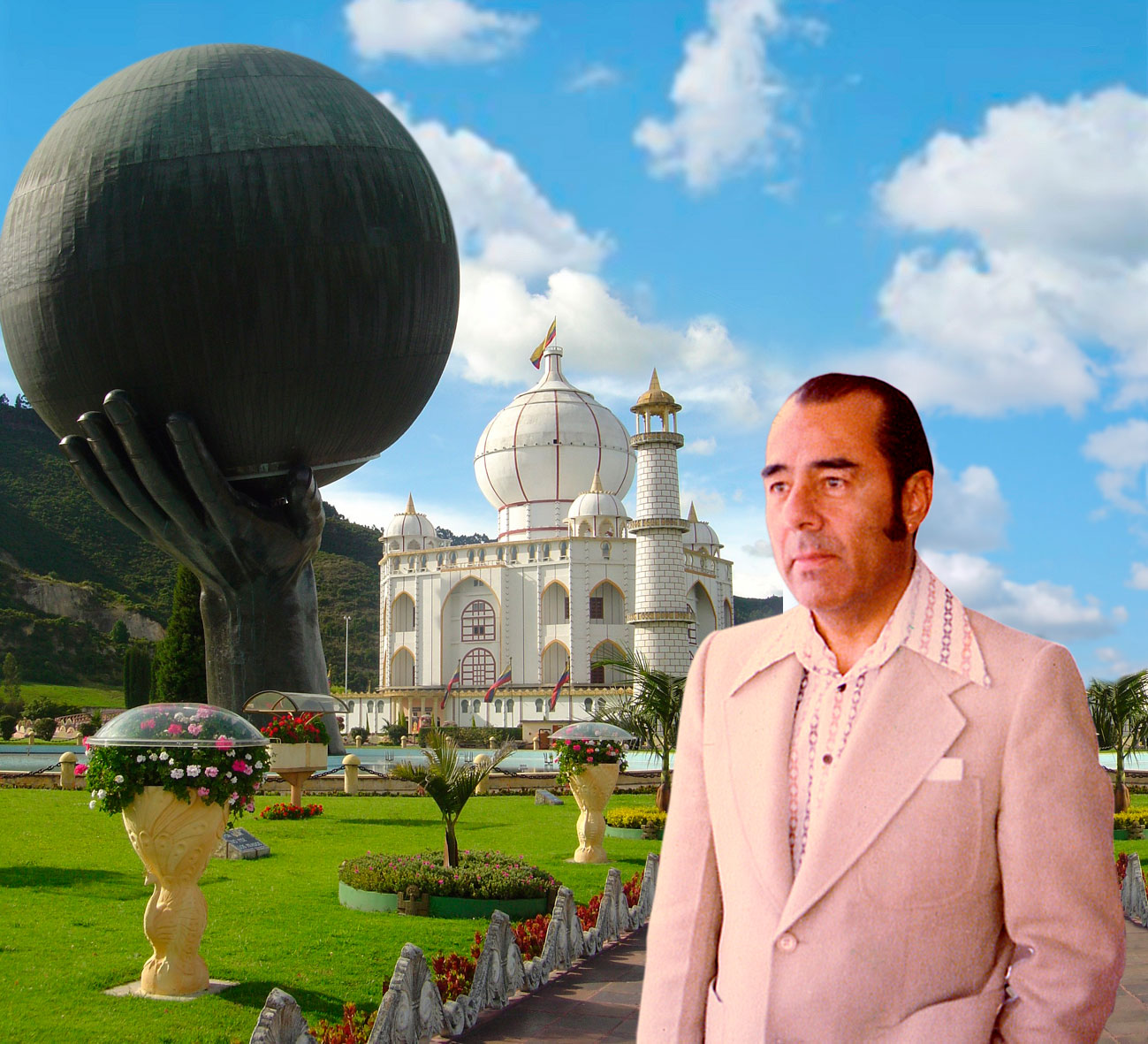 Social Work
Since he was a kid, aside from aviation, one of his dreams was to dedicate himself to serve the community. In 1940, with his aviator salary, he began supporting education for the youth of scarce resources. In 1952, he retired from aviation and, with his savings and bank loans, organized a thriving construction company that built over 300 houses and buildings. These profits were the basis of the social cause and the creation of the Parque Jaime Duque.
His love for his hometown led him to donate a building to the mayor's office, the firefighter's headquarters and the Jaime Duque School, where for 20 years 1,500 students from low-income families receive free education. He was a big benefactor of the Armed Forces, donating the library for the military school of cadets and many other institutions such as hospitals, child care centers and nursing homes.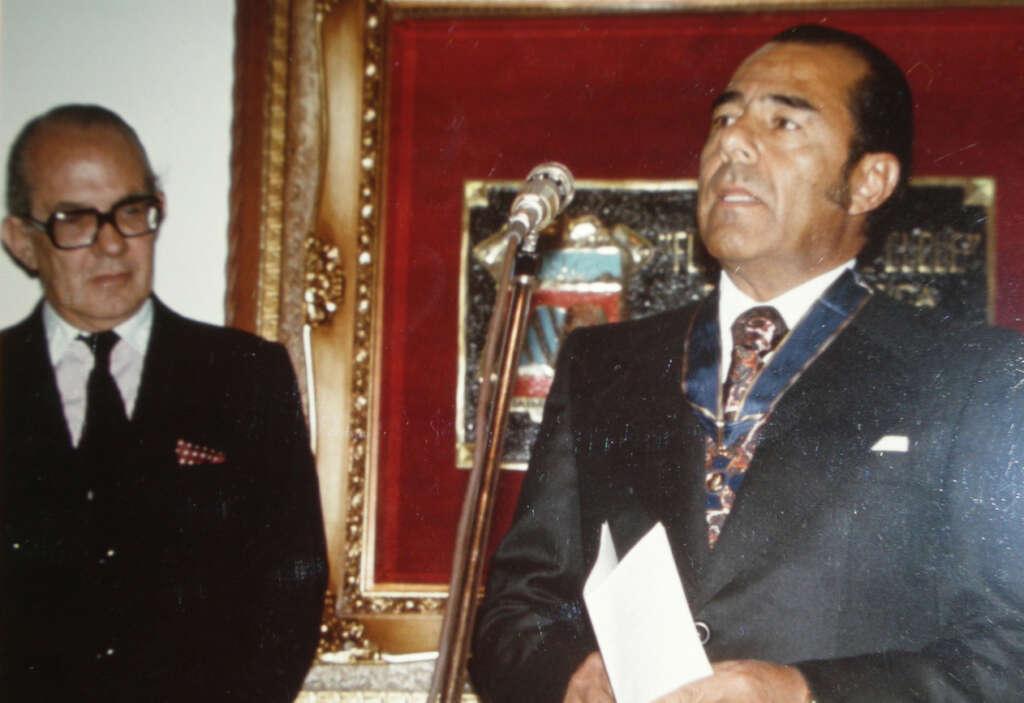 Received Awards
Cruz de Boyacá
Orden de la Democracia Cámara de Representantes
Medalla del Civismo Mejoras Públicas de Manizales
Medalla del Civismo Concejo Municipal Villamaría
Medalla del Congreso del Senado de la República
Medalla Amigos de Bogotá
Among others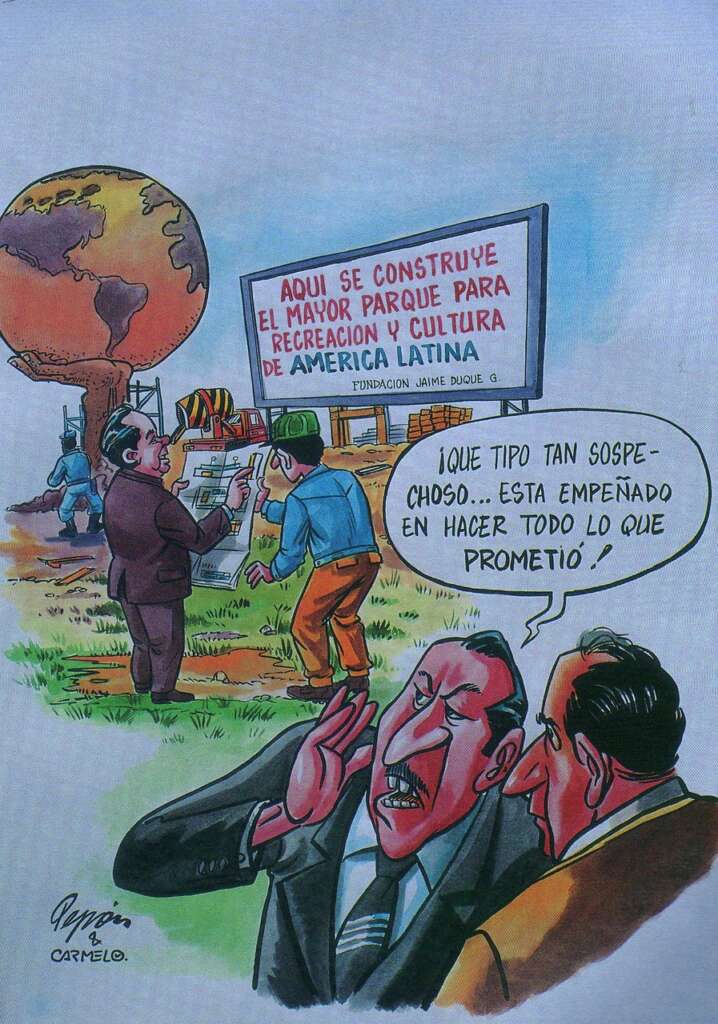 Culture and education were some of Jaime Duque's main interests. In 1977, at the age of 60, with the unconditional support of his wife Amparo, they started building his last dream; the Parque Jaime Duque. His purpose was to leave all Colombians a cultural and recreational center that at the same time would generate resources to support the most disadvantaged people in society.
The Parque Jaime Duque opened its doors to the public the 27th of February of 1983. Located in Bogota´s countryside, in the municipality of Tocancipa, it is a unique place considered by Discovery Travel & Living as one of the best parks in Latin America. It is a 200 hectares complex, where a great variety of attractions and cultural, and leisure activities can be found, surrounded by a natural reserve, turning itself into a marvelous place to enjoy a world of experiences in only one place!
What is the Jaime Duque Foundation?

We are a non-profit entity, 100% Colombian, that works for the conservation and preservation of family union, nature, historical memory, and life of the most vulnerable population, with the sole objective of serving the community and promoting the wellbeing of today and future generations.
We believe that setting an example is the only way to lead, and that is why we have transformed it into an exemplary scenery for sustainable leisure and tourism with a purpose. We provide interactive spaces between nature and its care. Our landscapes, nature reserve areas, and wetlands are important oxygen producers, refuges of life and ecological spaces to connect with the Bogotá Highland Plateau. We offer a peaceful atmosphere that allows the strengthening and reunion of families, as well as for learning history and culture. This is done through a business model that prioritizes responsibility and ethical values, whose profits are destined to favor the most vulnerable population of our region and protecting ecosystems.
We dedicate 200 hectares to create a learning space, that offers to its visitants and nearby community, experiences for family leisure, care for nature, cultural gatherings and study, and investigative opportunities, as we believe that through education and partnerships with other institutions, we will cause a greater impact and we will inspire change in a global, family, business and state level.
We are a non-profit entity, 100% Colombian, that works for the conservation and preservation of family union, nature, the life of the most vulnerable population, and the historical memory, through educational and leisure processes, and partnerships with other entities.
In 2030 the Parque Jaime Duque wants to consolidate itself as a cultural, environmental and social destination that will cause an impact and generate a change on an individual, family, business and state level.
We develop different activities through which we seek to achieve our purpose of "Cultivating with Love a Legacy of Conservation", a commitment that has taken us to different areas of our country, where we have made an important labour with the community while focusing on our 4 conservation goals.
Our Preservation and Conservation Objectives
Preservation of the Family Union
Family has a vital role in society, that is why through leisure and spaces that allow reflective thoughts about the importance and caring for relationships, we work for the rebuilding and the importance of family.
We believe that the path to follow is environmental sustainability and we actively work in the land transformation, generating sustainable landscapes that can also be centers of life and protection of the biodiversity.
Preservation of the Culture
We create cultural dynamics that allow us to protect our identity and intangible heritage of our Colombia. This is part of our responsible and with purpose tourism.
Preservation of the lives of the most vulnerable population
We continue with our founders' dream, working for the correct fulfillment of children, youths and elderly rights, that live in vulnerable conditions through adequate and quality care.